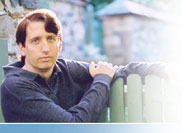 In May 2000, James founded the web portal for all love song enthusiasts: LOVESONGS.COM. This popular website receives thousands of visitors each week from across the nation and globe. James also set a record in 2000 with his whirlwind Valentines tour performing at 8 different Barnes & Noble book stores in a single day. In 2003, James launched his very first tour dubbed the "6 Weeks to Valentines" Tour. This tour marked another record-breaking milestone with 100 performances in just 45 days including stops at Planet Hollywood/NYC, Hard Rock Cafe/Philly, Vermont Teddy Bear Company and numerous other venues.

To coincide with the first "6 Weeks to Valentines" tour in 2003, James released his pop'n'love masteripiece CD entitled "One More Night". Throughout the 9 tracks, James manages to touch almost the entire spectrum of human emotion. Its very easy to see why JAMES is quickly becoming recognized as "Mr. LoveSongs" both in his home town of Philadelphia and across the nation.

James press credits include appearances on The Jenny Jones Show, QVC, NBC 10! Show, Fox News/Philly, FOX's Good Day Philadelphia and CN8 News as well as dozens of local and national radio interviews. Upcoming for 2004 is the national release of singles "One More Night" & "Love Makes the World" off of James debut CD.